Dixie Baptist Church in Clarkston, Michigan, is raising funds to restore its iconic roadside sign—which currently reads, "Are You on the Right Road?"—and PETA has sent a letter offering $500 toward the church's campaign, provided that church officials agree to display our message for a week. Our sign will read, "The Road to Hell Is Paved With Bacon. Go Vegan," and will remind the Clarkston community that merciful dominion means caring for God's creatures, not eating them.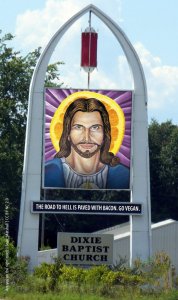 We hope our unique message will draw attention to the hell that pigs and other animals endure for meat, eggs, and dairy products. With more than 27 billion animals killed for food in the U.S. every year, taking animal products off our plates and replacing them with healthy plant-based alternatives is the best thing that any Christian can do to stop cruelty to animals and care for God's creation.
Want to help animals? Pledge to go vegan for 30 days!