Have you noticed something fishy going on? During Lent, many Christians abstain from eating land animals on Fridays in honor of Christ's sacrifice of His own flesh on the cross. But for some reason, fish are often excluded from this act of compassion, even though they are just as intelligent and sensitive as land animals, feel pain, and value their own lives.
If this important season in the Christian calendar is intended for repentance, self-sacrifice, and seeking a closer relationship with God, should we still be killing His animals to satisfy our own taste for flesh? Or should we seek to show the rest of the world the same selfless love that Jesus showed to us?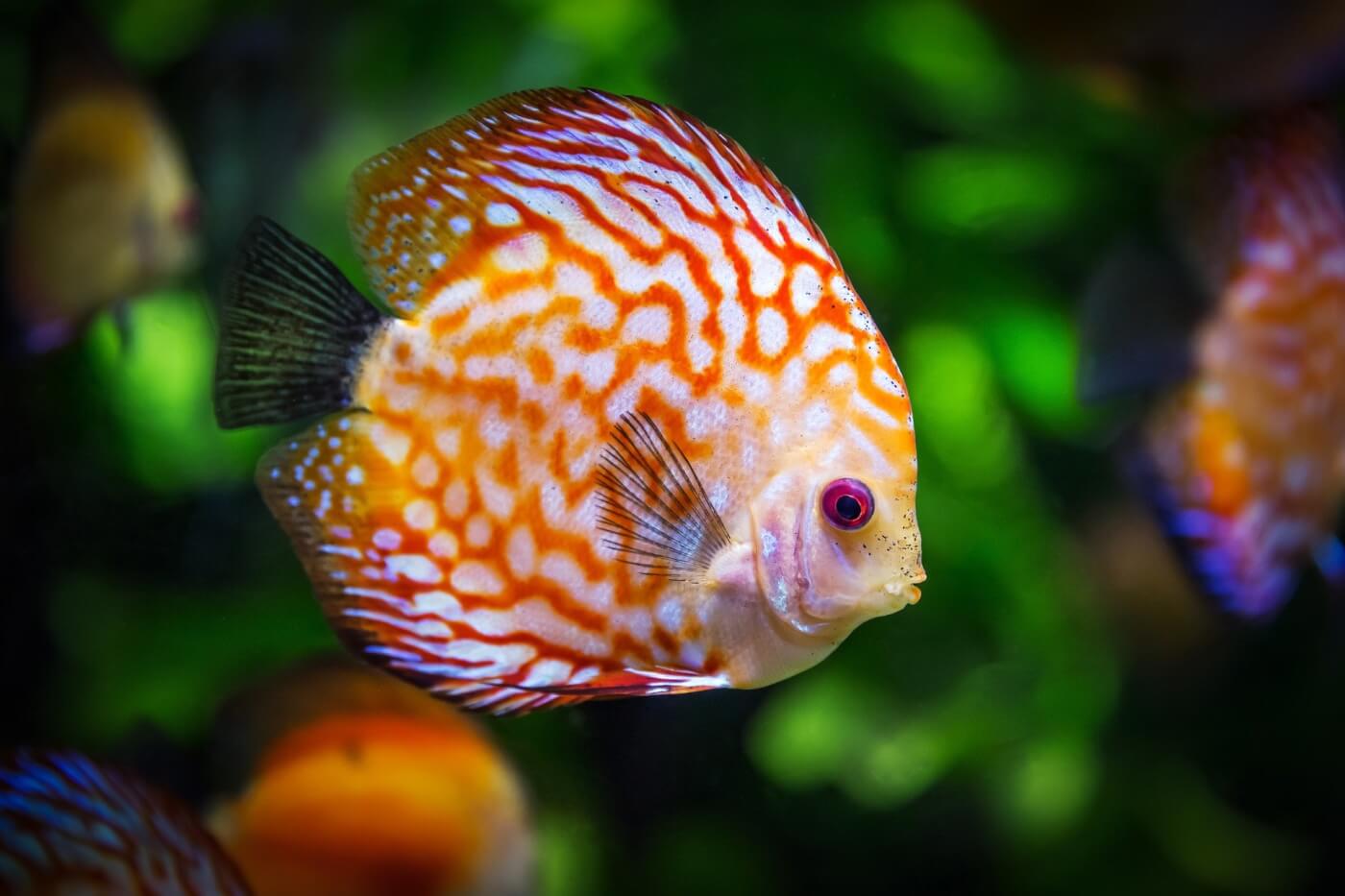 Like all animals, fish are interesting individuals with distinct personalities. They pass down knowledge, have cultural traditions, and talk to one another in low-frequency sounds that human ears can't hear. Some are guilty of eavesdropping. Others enjoy playing with toys. Some woo potential partners by singing to them or creating intricate works of art. And they're remarkably smart. Dr. Culum Brown, a Macquarie University biologist who is studying the evolution of cognition in fish, found that "fish are more intelligent than they appear. In many areas, such as memory, their cognitive powers match or exceed those of 'higher' vertebrates including non-human primates." (For an excellent exploration of the "Did Jesus eat fish?" question, click here.)
---
The UK government … declared octopuses, crabs and lobsters as 'sentient beings', meaning they have some amount of consciousness and are capable of experiencing pain or suffering … after an independent review commissioned by the UK government concluded that there is strong scientific evidence decapod crustaceans and cephalopod mollusks are sentient.

Hindustan Times
---
And fish don't deserve to be impaled on hooks, crushed in nets, suffocated, or boiled alive any more than any other animal does. The great news is that they don't have to be. There are healthy, fool-your-taste-buds vegan foods to mimic the taste of every kind of sea animal imaginable. Here are just a few of the tasty "fish" dishes being served at restaurants across the U.S. all year round.
Scrumptious Vegan Fish Dishes in the U.S. for Lent and All Year Round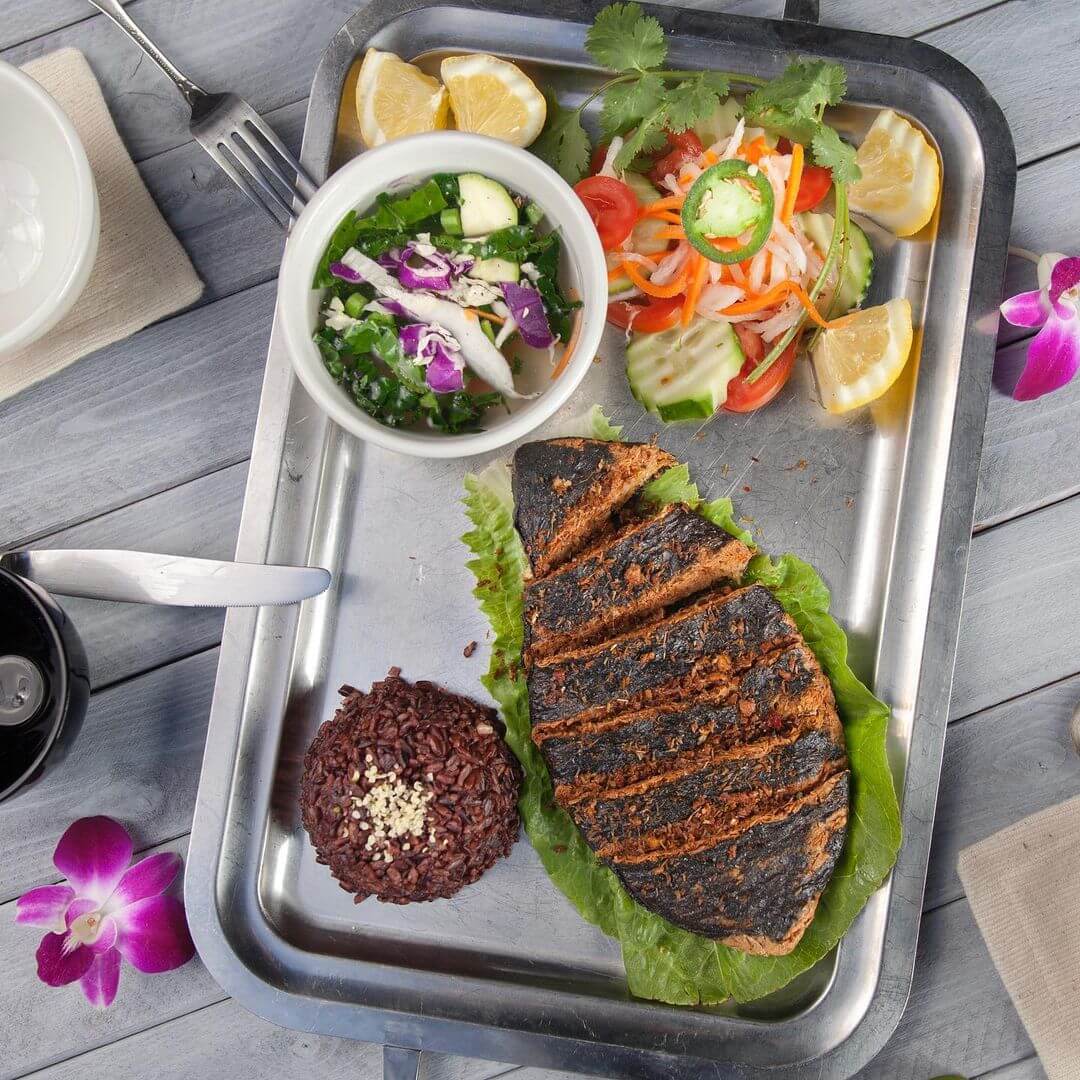 © instagram.com/aulacrestaurant
CALIFORNIA
Los Angeles
The Vegan Joint offers several tasty choices at its three locations. Try the grilled soy fish with tartar sauce, Fish Burger, Fish Wrap, or Tuna Sandwich.
Green Leaves Vegan's classic Fish & Chips dish is sure to satisfy.
LA Vegan will keep you coming back for its Fish Sandwich, deep-fried shrimp with tempura vegetables, Fish Wrap, Shrimp Tempura Rolls, three varieties of seafood soup, Silver Noodle Salad with fish, or gourmet Three-Flavored Fish.
At the Jackfruit Cafe, you can't go wrong with an order of Vegan Shrimp or the Shrimp Sandwich.
Au Lac's elevated options include Kale Sea Salad, Salt & Pepper Shrimp, Black Rice Octopus, Claypot Fish, Lemongrass Fish, and Spicy Calamari.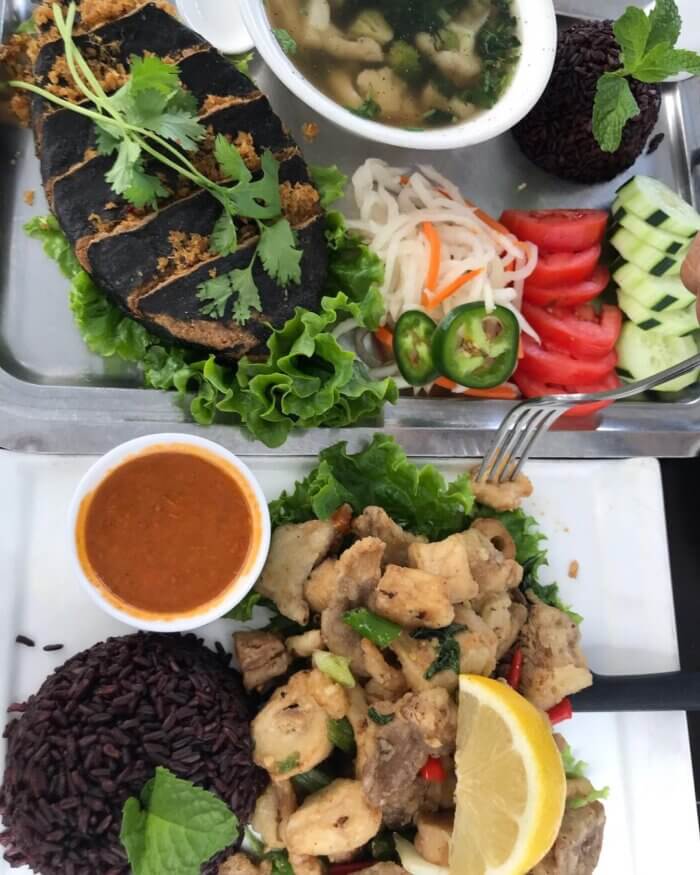 © instagram.com/aulacrestaurant
Multiple Cities
The Veggie Grill uses "seafood" from our friends at Good Catch for dishes like its Tuna Melt and Cajun Fish Sandwich, and kids can get their own Crispy Fish kids meal.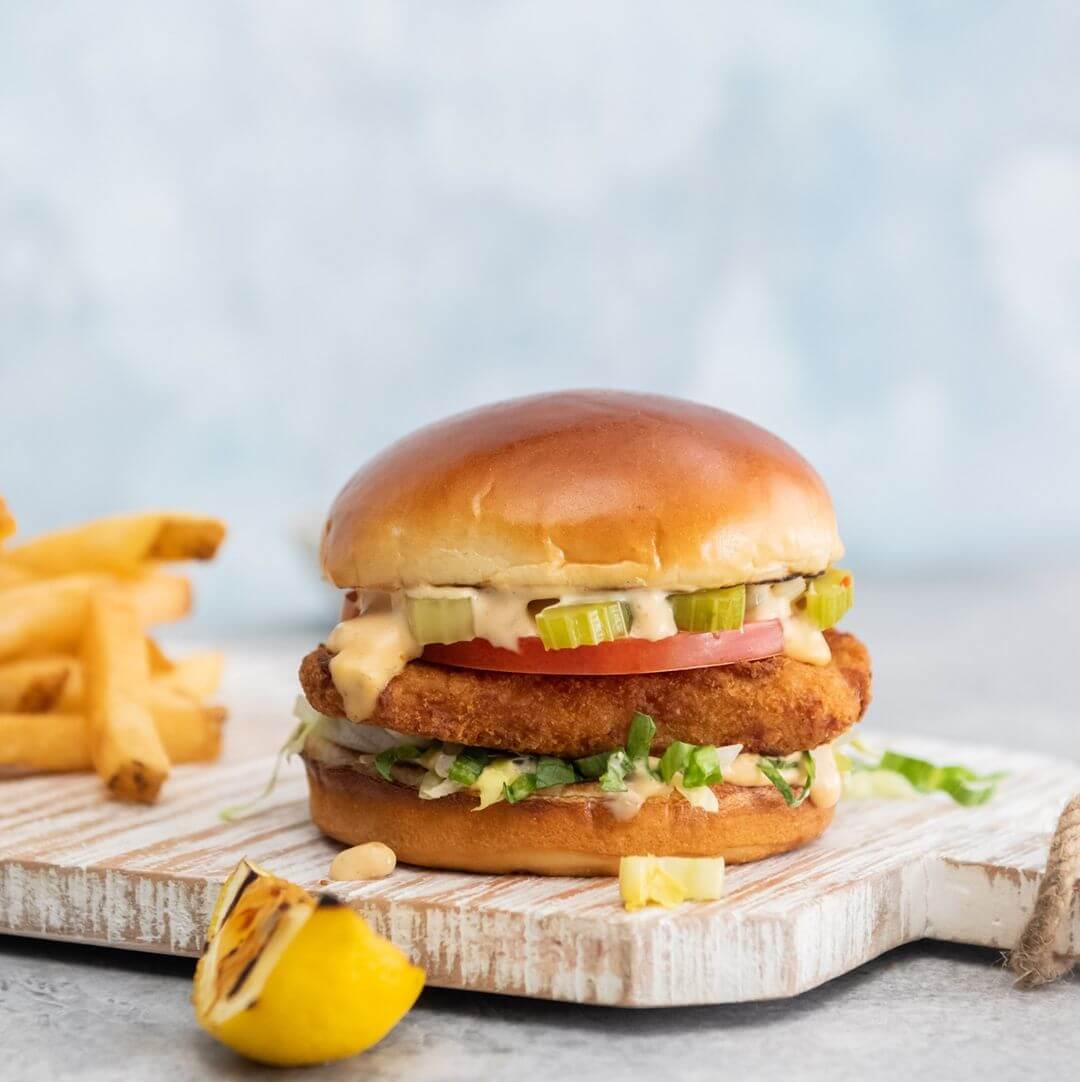 © instagram.com/veggiegrill
FLORIDA
Jacksonville
At Southern Roots Filling Station, foodies can fill up on the Untuna Salad Sandwich made from local ingredients.
And catch the Kravegan food truck for scrumptious Kalamari, Krafish Tacos, and the Kalamari Po-Boy with all the fixin's.
Miami Beach
If the beautiful setting at Full Bloom doesn't make you smile, the Tuna Wrap will.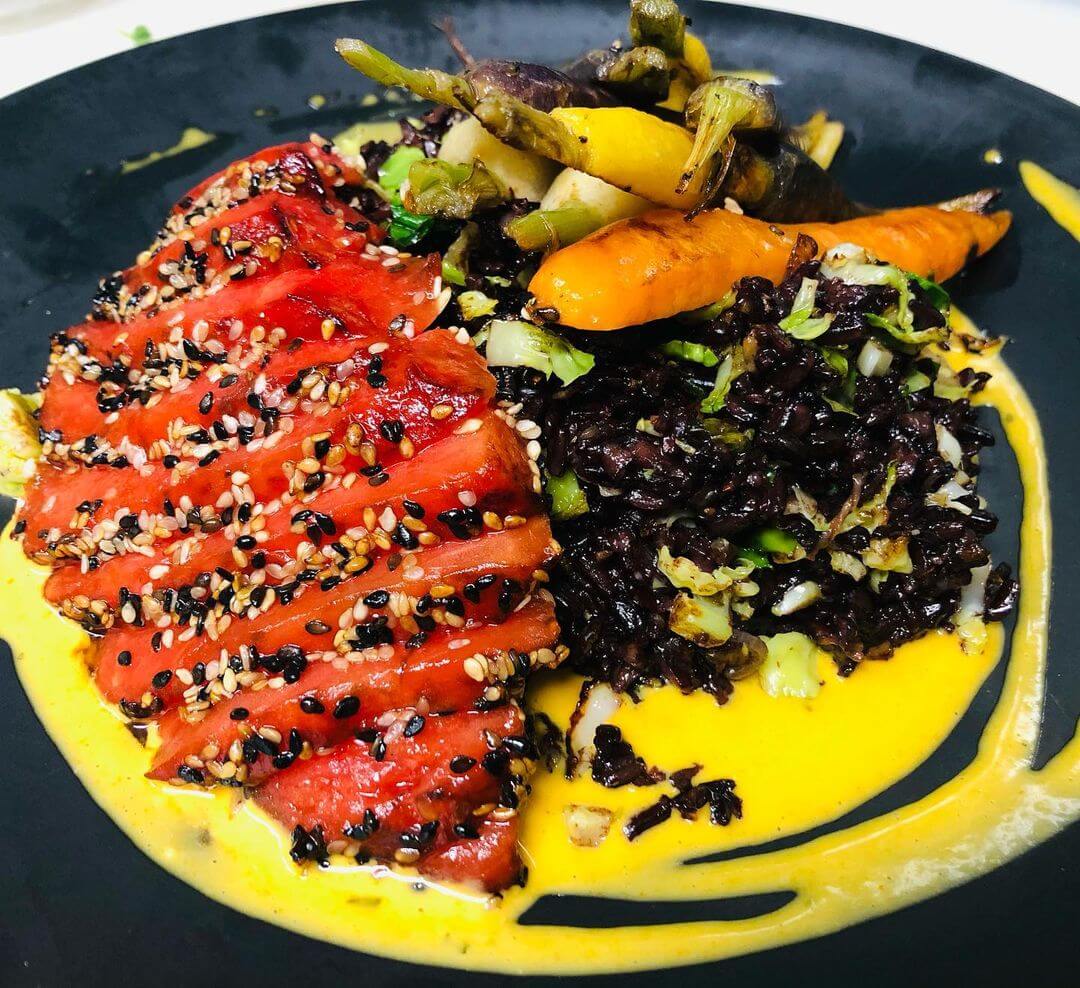 © instagram.com/fullbloomvegan
Entire State
The Oh My Cod Vegan Seafood Co. food truck travels throughout the state spreading goodwill and good vegan seafood. There are too many choices to list, but just a few include its Crabby Spring Rolls, Lobsta Mac, and banana blossom Fish & Chips.
ILLINOIS
Chicago
A Vegan Shrimp Boat? Oh, yes. Stop by Soul Veg City and tuck into that sought-after dish or the Cajun Shrimp N Rice or fish sandwich.
Let Majani Soulful Vegan Cuisine feed your body and soul with its Crab Cakes, Crab Cake Sandwich, Vegetable (Shrimp) Gumbo, and more.
Don't be afraid to fill your plate when you're at the Vegan Plate. For Free-the-Fish Fridays, go for the Fish Nuggets, Seaweed Soup, Spicy Seafood Soup, Fish Steak, 3-Flavored Chili Fish, or one of the fish or shrimp combos.
We definitely want to be friends with Alice after seeing the menu at Alice & Friends' Vegan Kitchen. Choose from dishes like Crab Rangoon, Walnut Shrimp, and the Chana Poke Bowl—a traditional Hawaiian marinated raw fish salad.
INDIANA
Bloomington
You won't be ornery after a stop at The Owlery for Fish Tacos, Fish and Chips, and so much more.
LOUISIANA
Lafayette
The Northside Vegan pop-up aims to serve food deserts. Satisfy your palate with its rotating menu that includes shrimp and grits.
MASSACHUSETTS
Cambridge
The Veggie Grill uses seafood from our friends at Good Catch for dishes like its Tuna Melt and Cajun Fish Sandwich, and kids can get their own Crispy Fish kids meal.
The food at Veggie Galaxy is truly out of this world (we couldn't resist!). Try the Chickpea "Tuna" Stuffed Avocado Salad or Melt, Cauli of the Sea, or Fried Clam Platter.
Watertown
Even the pictures from Red Lentil are enough to justify making the trip. We're craving the Oyster Mushroom Calamari and Chesapeake Crabless Cakes.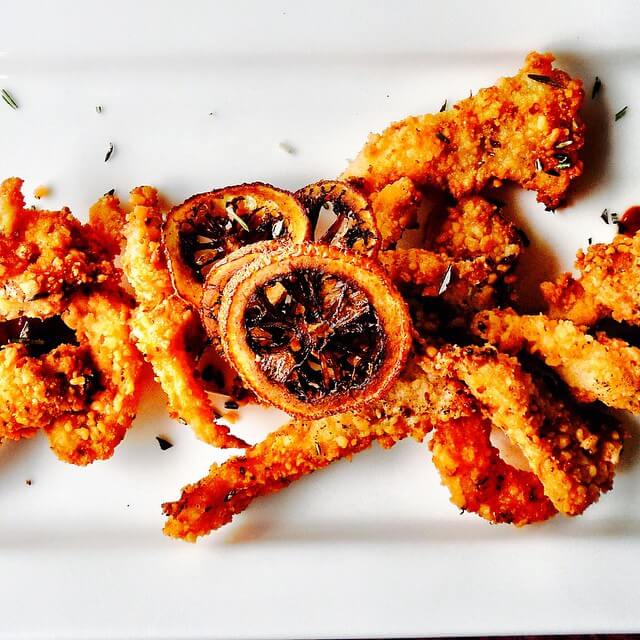 © instagram.com/redlentil600
MICHIGAN
Detroit
In the Motor City, motor on over to Detroit Vegan Soul for the Oyster Mushroom Po Boy, "Catfish" Tofu Sandwich, and "Catfish" Tofu Soul Platter.
Or take in a cooking class at The Kitchen by Cooking With Que to learn how to easily whip up dishes like its Vegan Fish Sandwich.
MISSOURI
St. Louis
CC's Vegan Spot Soul Veganlicious says that its Papa Joe's Ish Bites "are the ISH!"—and who are we to argue? Check out the Ish Sandwich and Spaghetti and Ish Dinner, too.
If life is a highway, The Vegan Freeway Co. is a required pit stop. Try its Vegan Seafood Platter made up of Golden Fried Vegan Shrimp, Fried Vegan Calamari, and Vegan "Scallops" served with fries, corn on the cob, and a dinner roll. And when Lent is over, head back for the special Easter Sunday dinner.
NEW JERSEY
Audubon
Veggies are free to be veggies at Lesbiveggies, but the Blackened Cajun Cauliflower Sandwich can hold its own next to any meaty fare.
NEW YORK
New York City
You won't go hungry at Harlem's Seasoned Vegan. You could practically make an entire menu out of just the seafood options: Fried "Shrimp," Fried "Crawfish," BBQ "Crawfish" (also available as a sandwich), "Tuna" (also available as a sandwich), and a "Shrimp" Po' Boy Sandwich.
For a fancy-shmancy dinner date, head to Brooklyn's Aunts et Uncles for the Bake & Saltfish and Lobster Roll.
Jajaja recreates Latin favorites with vegan flair at four New York locations. Stop in for the Hijiki-Hearts of Palm Ceviche or Crispy Pescado Tacos and stay for dessert.
No Carne has a rotating menu, but these PETA friends have been known to host a mean vegan fish fry.
The Veggie Grill uses seafood from our friends at Good Catch for its Tuna Melt and Cajun Fish Sandwich, and kids can get their own Crispy Fish meal.
Authentic French fare goes vegan at the West Village's charming Délice & Sarrasin. Escargot, smoked salmon crêpes, and tagliatelle with squid, shrimp, and scallops? Oui, oui.
NORTH CAROLINA
Charlotte
If you missed out on Bean Vegan Cuisine and PETA's vegan fish fry, don't fret. You can still try the Fishless Filet Sandwichon its regular menu. Or for those who know that crabs deserve to live, too, try the Crabbie Dip, Crabbie Salad, Crabbie Patty Platter, or Crabbie Patty Sandwich.
OREGON
Beaverton and Portland
The Veggie Grill uses seafood from our friends at Good Catch for its Tuna Melt and Cajun Fish Sandwich, and kids can get their own Crispy Fish meal.
PENNSYLVANIA
Philadelphia
Charlie Was a Sinner, but you'll be a saint for saving animals' lives. We highly recommend the Zucchini "Crabcake" Sliders.
Nourish lives up to its name with an array of healthy juices, smoothies, and entrées. We're partial to the Vegan Scallops.
Pittsburgh
The Zenith has a rotating menu that often features our nominee for best entrée name: the Tofishy Sandwich.
RHODE ISLAND
Providence
The Plant City food hall and marketplace is a vegan Disneyland. Definitely try the Chickpea "Tuna" Sandwich at Make Out and the Dorados (fish tacos) at Besina.
TENNESSEE
Memphis
Imagine there's no cruelty—it's easy if you try. And Imagine Vegan Cafe makes compassion yummy with dishes like its Shrimp Po-Boy and Fish or Shrimp Dinners. Still hungry? Add extra pieces of fish, shrimp, or chicken à la carte.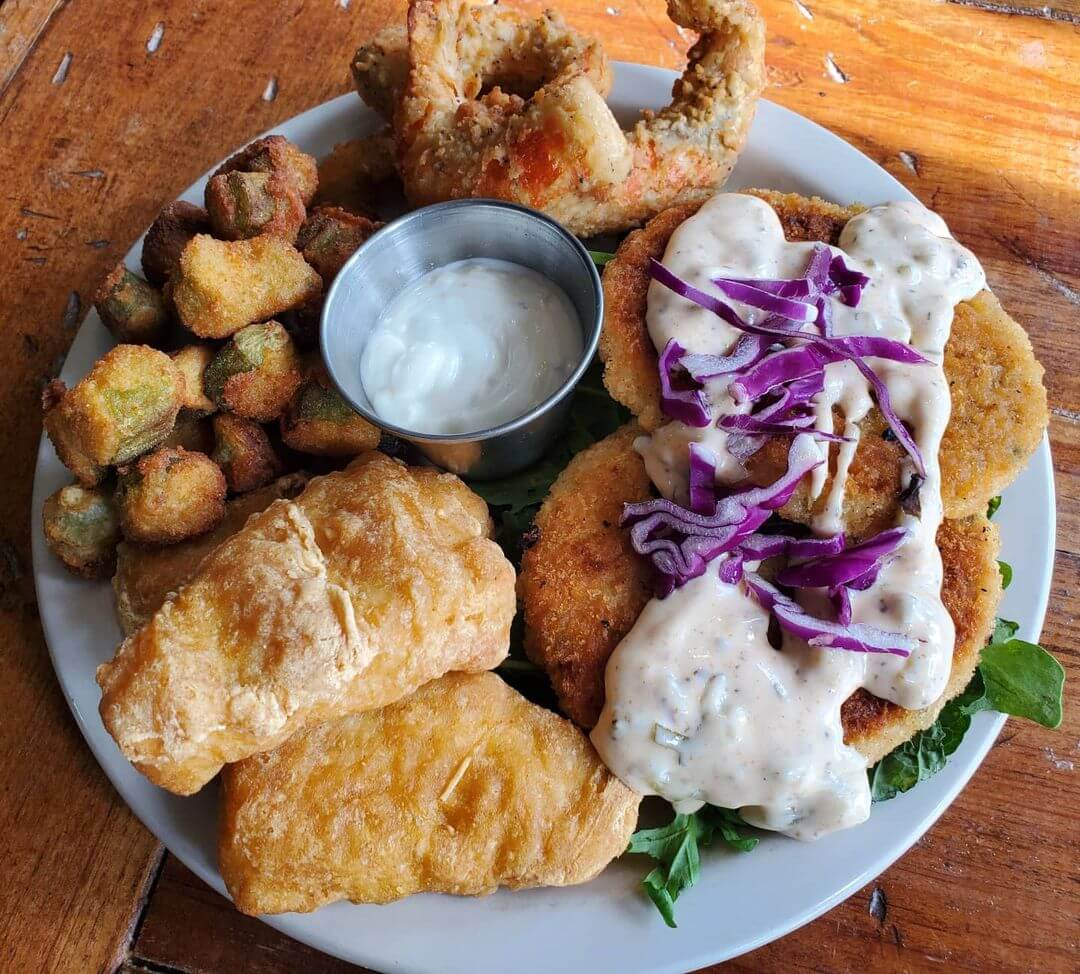 © instagram.com/imaginevegancafe
TEXAS
Austin
The Vegan Nom's motto is "Life is short. Eat more tacos." We tend to agree, and we tend to start with the Del Rey Fish.
El Paso
The Veggie Jackson food cart's menu changes, so there's always something new to try. But be sure to catch the Cajun Fried Fish Sandwich.
WASHINGTON
Seattle
Visit Plum Bistro to see why Makini Howell was named a "Top Chef Changing Food in America" by The New York Times. You'll be plumb happy with the Oyster Mushroom Calamari and Shrimp Tacos.
The Veggie Grill uses seafood from our friends at Good Catch for its Tuna Melt and Cajun Fish Sandwich, and kids can get their own Crispy Fish meal.
*****
This is just a sampling of the many tasty, truly sustainable seafood dishes available across the country. Check your local restaurants to find out their offerings, and if they don't have vegan food, ask why not! PETA often hears from supporters who succeeded in having vegan options added to menus simply because they asked. After all, as Matthew 7:7 says, "Ask and it will be given to you."